Well accepted by many for my subtle ability to play the piano without formal education in music, some people said that I definitely raised the standards of what is sometimes called "Playing by Ear" or  "Oido Playing". I was fortunate enough to have captivated audiences from all corners of the world and graced the Lobbies, Lounges, and Jazz Bars of big named hotels in Bangkok such as the Rembrandt Hotel Bangkok, Shangri-La Hotel Bangkok, The Le Meridien Hotel and the chain of Sofitel Hotels all around Thailand just to mention a few.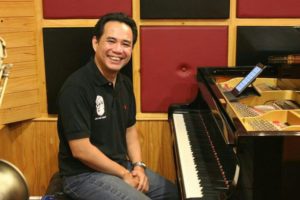 With a wide range of musical repertoire, I cater to all types of audience. From the music enthusiasts up to the kind of crowd that just want to hear and feel good and enjoyable music. I do not concentrate in just one kind of music specialty, I always make it a point to be able to sing and play any kind of musical genre. From the classical tunes of yesterdays, up to the most popular songs of today.
Sometimes called in Bangkok as the "Jack of all Trades" or sometimes the "Oido Playing Virtuoso", I play and sing a variety of tunes and genres. From Main Stream Jazz, Jazz Ballads, Swing and Blues, and Contemporary Jazz, then to the more up tempo style of the original Cuban Latin music, namely; Salsa, Son, Merengue, Bolero, etc., up to the most current popular songs of this time.
I gained my favorable reputation throughout the years by playing with all types of bands, and working with different formats such as; Duos, Trios, 4 piece or more. And made an even more bigger impact in the area of Latin music by playing with a Cuban Band for seven years and demonstrated that there are no limitations even if one is only playing by ear!!!
Work History
Spent several years touring around Thailand with "Raiz Latina" a Cuban Salsa Band in hotels such as; "The Imperial Queen's Park Hotel", "La Nina" salsa club at the "Le Meridien President Hotel Bangkok", and the Sofitel chain of Hotels in Thailand, just to mention a few.
Recently Worked:
The Rembrandt Hotel, Bangkok – "The Mexicano"
Previous Work:
The Rembrandt Hotel & Towers Bangkok
The Hotel Cambodiana Phnom Pehn
The Rembrandt Hotel & Towers Bangkok
The Delta Grand Pacific Bangkok
The Regent Cha-am Hotel Cha-am
The Le Meridien Hotel Bangkok
The Shangri-La Hotel Bangkok

"The Club" Jazz Bar & Restaurant (2 years)
The Fortune Hotel Bangkok

"The Westminster Pub" (6 months)
The Baiyoke Sky Hotel Bangkok

"The Sky Coffee Shop" (1 year)